We would love to hear from you!
We have our head office and FLAGSHIP showroom in Bangkok at Sukhumvit 50 (in the Fifty Tennis Club). If you would like to visit us, please find the map on the right hand side! We accept cash, direct transfer, credit card and PayPal payment.
Operating hours: Monday to Friday 9:00AM to 6:00PM
Please note that for those visiting Bangkok, we also have a messenger service to send your order to your hotel room. And for those visiting other parts of Thailand, we offer FREE shipping nationwide and the order will reach you within 1-3 business days after we ship.
Please email us at info@flexilexi-fitness.comfor more information.
Flexi Lexi Fitness Showroom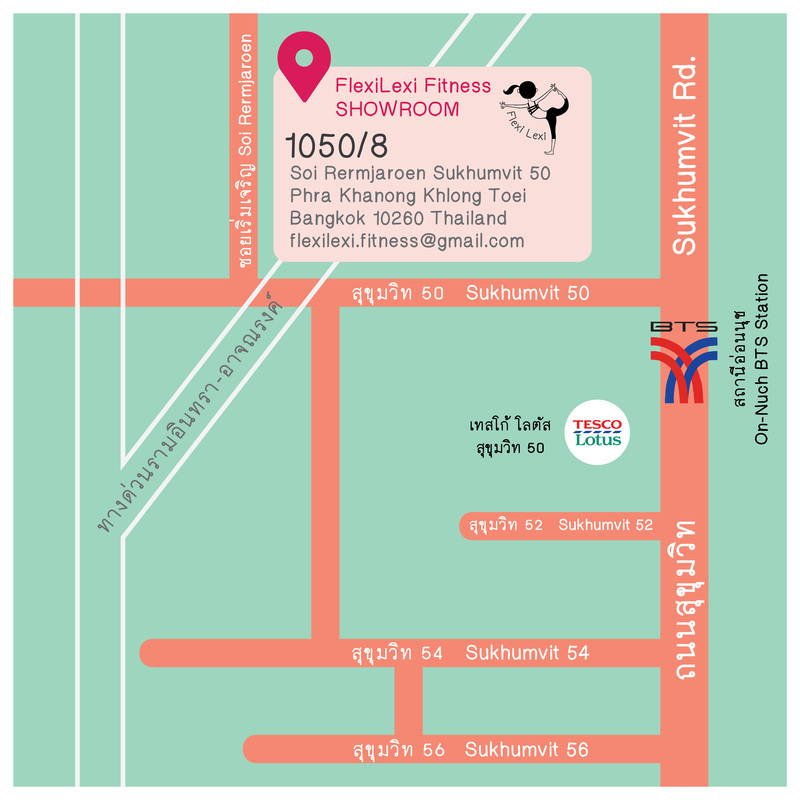 Directions in Thai for Taxi to our Flagship Showroom
ร้าน Flexi Lexi Fitness ตั้งอยู่ในสนามเทนนิส The Fifty Tennis Club (Spin & Slice Tennis School and Academy) ซอยเริ่มเจริญ สุขุมวิท 50 (ข้างโลตัสอ่อนนุช)
For google map, use keyword: spin and slice tennis
เปิดทำการ วันจันทร์ถึงวันศุกร์ 9:00-18:00ตรงเข้ามาในสุขุมวิท 50 ข้ามสะพานข้ามคลอง ตรงเข้ามาเรื่อยๆจะเห็นสะพานทางด่วนอยู่ด้านบนซอยเริ่มเจริญอยู่ด้านขวา ใต้สะพานทางด่วน (หน้าปากซอยข้างซ้ายมี Max Dental Clinic [ศูนย์ทันตกรรมแม๊กซ์] ด้านขวาเป็นลานสันทนาการ)ตรงเข้ามาในซอยเริ่มเจริญ ด้านขวาจะเห็นสนามเทนนิส The Fifty Tennis Club ให้จอดส่งในที่จอดรถ
โทรสอบถามเส้นทางได้ที่ 02-742-8889 และ 061-402-4942 (ภาษาไทย)

Find us all around Bangkok!
Our physical stores in Bangkok:

Flagship Showroom: The Fifty Tennis Club Sukhumvit 50 (photos, map and directions above)

Siam Paragon: Floor 3, Lingerie Salon

Emporium Department Store: Floor B1, Lingerie Salon​